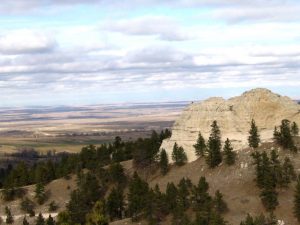 On April 22, we will celebrate Earth Day. You have probably read about different ways people are recognizing the day and bringing greater awareness to ways we can help our planet, and you may be taking part in some of those activities yourself. Did you know that you can also do things with your estate plan that help the earth? When you make an estate plan, you have probably been advised to think about your assets and your beneficiaries. One of your beneficiaries can be the earth, and this can be accomplished in several ways. In this 5-part series, I will explore these different ways.
A popular way to help the natural world is to bequeath property or money to a nonprofit organization or a business that engages in work that you support. Recently, a woman used her trust to leave $1 million to three Washington National Parks. Elizabeth "Bette" Wallace established a trust so that money could be used to support causes when she died. Her trust, through her niece acting as its trustee, already made contributions to help the homeless and to Washington schools. The latest donation is to the Washington National Park Fund. The amount will be evenly split between Mount Rainier, Olympic, and North Cascades National Parks. Ms. Wallace spent 14 years growing up in Washington and through this generous donation via her trust, she can help the land there and to help people experience that land.
While not everyone has the ability to make such a generous donation, you can make donations via your estate plan to support environmental causes after your death. Using a trust can be the best way to do this, although you can also do it through a will. A trust is a private document that is not filed in the court system, so you don't have to worry about people finding out about your donation unless you want it publicized. A trust is also a faster way to donate because a will can take 9 months to several years to go through the court probate system. You can either make a specific bequeath through your trust or you can give your trustee discretion concerning what individual, organizations, and companies receive the money. Even a few hundred dollars can go a long way to help an organization such as an animal shelter.
Come back tomorrow and find out another way to help the Earth with your estate plan. This week, I am offering a 10% Earth Day discount on all my legal services, so please feel free to contact me about your estate planning needs, whether you need changes made to your existing plan or you need an entire plan drafted.