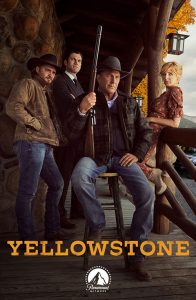 Among the sweeping vistas of Montana, the Duttons try to preserve their ranch from the encroachment of outside forces. Paramount's Yellowstone is one of the most-watching dramas right now, and it has a lot of legal issues in it that address pressing matters. Estate planning, environmental law, equine law, and federal Indian law are just a few of the legal areas that the series touches upon with major and minor story lines. All of these posts have spoilers, so watch the series first. I hope you enjoy reading about Law & Story in Yellowstone!
Backstory of Yellowstone: Yellowstone is a Paramount Network production that revolves around the family of John Dutton and the Yellowstone Ranch that has been in his family for generations. John, a widower, has four grown children although only three figure prominently in each season. Jamie, the eldest of the three, is an attorney. Beth is a businesswoman who left the ranch but returns at her father's request. Kayce is the youngest and tries to unsuccessfully distance himself from the family. Kayce's wife, Monica, is from the nearby fictional Broken Rock Reservation, which figures prominently in the storylines. Forces align each season to try to take over the Yellowstone, located in Montana near the National Park of the same name. Drama ensues from the dysfunction of the family and the forces against the Yellowstone.
Yellowstone and the Power of Attorney: What is a Power of Attorney and why is one important in Yellowstone?
Yellowstone and Estate Planning: How does a trust work and how does one impact the Dutton family and the ranch in Yellowstone?