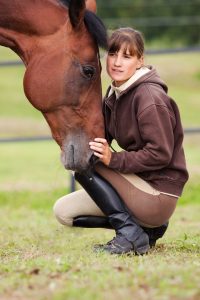 Windhorse Legal, PLLC is the law firm to turn to if you have horses in your life, if you are a mindful business practitioner, or if you want peace of mind with a will or trust. Founding attorney Joanne L. Belasco, Esq. has combined her knowledge as a professional horsewoman, her experience in mindful practices such as yoga and meditation, and her skills as an attorney to provide clients with affordable, convenient, and high-quality legal services.
Because Windhorse Legal is a virtual and mobile law firm, Jo primarily works with clients via email, phone, and Skype.  This means she can offer legal advice and prepare agreements that are both affordable and convenient. She knows that's essential for everyone in these days of high demand on both our time and financial resources. She also recognizes that there are times you want to meet with your attorney in person. She is available to meet at convenient office locations or at your horse or mindful business facility to discuss how she can help you with your legal needs. Jo is approachable and makes clients feel comfortable as she helps them understand how the law can meet their specific needs. While she is an experienced litigator, she helps clients explore others options before resorting to litigation.
Unlike many attorneys who only work in one location, you can get Jo's help no matter where you live in the state of Massachusetts. She even helps people who don't reside in Massachusetts but have business dealings that require legal advice concerning Massachusetts state laws.
Jo is also available to give workshops or presentations about equine law, mindful business law, and wills and trusts. She is an experienced speaker who knows how to make engaging, informational, and enjoyable presentations.
Contact Jo today about providing a free 15-minute consultation or making a presentation to your group.