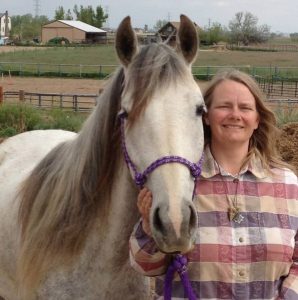 That's right. You've just walked in the front door of my web-based law firm, Windhorse Legal, PLLC. Grab a cup of coffee or tea, and let me tell you who I am, what I can do for you, and how I do it.
That's me, Jo Belasco, Esq., in the picture with one of my horses, a Mustang mare named Reboot. You won't see many pictures like that on attorney's websites, but I'm not your average attorney. I know that a lot of people are afraid of attorneys and the law. They dread doing things like creating a will or trust. I am an attorney and counselor at law, and I take the counseling aspect very seriously.
I provide legal services in estate planning, business law, trademark registration and responses to office actions, equine law, and animal law to individuals, families, and companies. When it comes to estate planning, I know that families come in all shapes and sizes. Your family may be just you or it might include your pet, your best friend, your same-sex partner, your kids, your husband or wife, your siblings, or your parents. I deal with your basic legal needs in a personal, friendly way, giving  you advice and counsel tailored to who you are and to the specific needs of your family and your small business, all while keeping your budget in mind. I enjoy working with small businesses to help you take the steps to form the company you want and protect it with contracts and trademark registration. As a horse professional and someone who has had horses in her life for more than 40 years, I also practice equine law. I help with legal issues concerning horses, both personally and professionally. I draft contracts, form nonprofits, and make sure your horse is included in your estate plan. I am also a life-long animal lover, so I help you with animal law matters, including making sure your animal family is taken care of if anything happens to you, helping you form an animal business, and trademarking your brand.
I want my clients to know that the law is a tool they can use to enrich their lives. My job is to help with that process, and I do my job by explaining the law to you, not talking down to you or making you feel intimidated by it. One of my favorite things to do is make the law understandable and accessible to you. You shouldn't be afraid of the law, and you certainly shouldn't be afraid of the lawyer helping you. I have been an attorney since 1993 so I have the legal knowledge and experience you need and want in an attorney. You can read more about my training and experience on my bio page.
I also believe law should be approached holistically. That means when we talk about your will or trust, I am going to talk to you about things like a legacy plan that includes you leaving videos or personal notes to important people in your life. I will talk with you about your corporate values and policies so they are included in the business you are starting or building.
Please feel free to contact me, and we'll set up a consultation to see how I can help you. I work with you via phone, email, or Skype. I work with clients all over Massachusetts for state matters, such as estate planning. I work with clients all over the country for other legal matters, such as federal trademark registration. I don't do any litigation but I do have a network of attorneys who do and to whom I refer cases.
Please enjoy looking around my office and also visit my social media pages. If I can help you in any way, please contact me. Thank you for coming in!
Estate Planning
Protect yourself, your family, your assets, and your business with the right estate plan.
Business Law
Protect your company with the right business formation, legal advice, and contracts.
Trademark & Copyright
Protect your company brand by trademarking it and your original creation with copyright registration.
Equine Law
Protect your horses and horse business with estate plans, business formation, and trademarks.
Animal Law
Protect your animals and animal business with estate plans, business formation, and trademarks.