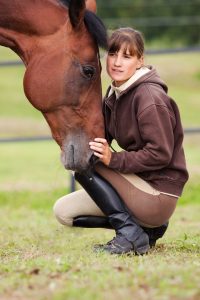 I own and ride horses, and spent many years working as a horse professional  – as everything from a riding instructor and trainer to a clinician and even nonprofit horse-human relationship researcher. The result is that I am familiar with the many issues, legal and otherwise, horse people face because I have witnessed and experienced them from both sides of the fence.
My skills as an attorney, integrated with my experience as a professional horsewoman, allow me to work with you to create the peaceful, enjoyable, professional, and profitable horse environment you want by drafting agreements that prevent conflict. For instance, I can draft boarding agreements that help minimize "barn drama," prepare and file forms that incorporate a boarding facility or rescue organization, and create documents that help communicate your expectations to riding and training clients.
Here are the most common types of preventive equine legal services I provide:
• Business Formation – Profit and Nonprofit
• Trademarks and Copyrights
• Boarding Contracts
• Liability Forms
• Sales Contracts
• Training Contracts
• Lesson Contracts
• Employment Contracts
• Breeding Contracts
• Lease Agreements
• Property Rental Agreements for Shows and Clinics
• Horse Syndication Contracts
• Hauling Release and Waivers
• Assessment of Liability Coverage
• Assessment of Horse Insurance Needs
Contact me today or visit my website dedicated to my equine law practice, HorsesandtheLaw.com, to see how my practice of equine law can help give you peace of mind.
TAKE A MINUTE TO LEARN MORE with Windhorse Legal Short Videos
Click the brief description or the icon and a Youtube video will open in a new window on your browser.
If you enjoy these videos, visit the Windhorse Legal channel at Youtube for more!
Equine Law (video length 1:13)

Why Should I Get a Trademark? (video length 1:59)

Trademark Registration with an Attorney (video length 2:09)

Mini-Videos : Fun super-shorts! (click the title to open in a new window)