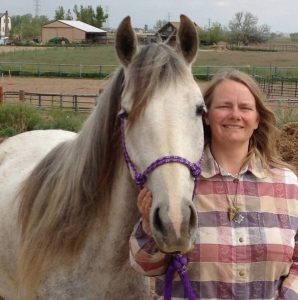 I graduated from Boston College magna cum laude with a BA in Psychology in 1990, and from Suffolk University School of Law in 1993. I have been a member of the Massachusetts bar since 1993. My legal experience includes litigation work as a staff attorney for the Boston Police Department's Office of the Legal Advisor. During that time, I successfully argued a case before the Massachusetts Supreme Judicial Court. When I left the Department, Police Commissioner Paul F. Evans personally awarded me the Boston Police Department Distinguished Service Award.  I also worked as a legal writer and editor at Quinlan Publishing, where I wrote "The Internal Affairs Handbook," and at LexisNexis, which provides computer-assisted legal research.
My professional horse experience began in 2001, managing an eventing barn office in Massachusetts. Later that same year, I relocated to the Western US and began developing a variety of programs involving horses through my work with the non-profit organization Tapestry Institute, of which I am currently Co-President. My work with the Horse-Human Relationship Program has included establishing equine educational programs funded by Pierce Brosnan and Dean Koontz, among others; organizing conferences with presenters such as Marj Kittredge, founder of the therapeutic riding movement; and developing a mindfulness-based horse workshop structured within Native worldview that was offered to adult survivors of childhood sexual abuse through the WINGS Foundation of Denver. I am currently working on more offerings with that program, including a stand-alone website and social media with webinars, workshops, mentoring, coaching, podcasts, and videos.
Starting in 2008, I offered personal riding instruction and horse training, mostly for older and fearful riders. I worked as a resident horse professional and conducted national seminars and clinics throughout the West. I gave talks at venues such as the Rocky Mountain Horse Expo in Denver, Colorado, and I produced an instructional DVD for fearful riders. I conducted clinics for fearful riders in Colorado, Wyoming, Montana, North Dakota, and South Dakota.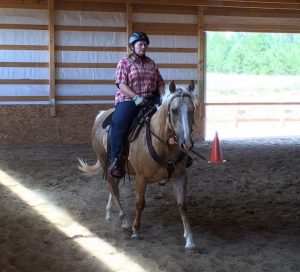 I have owned and ridden horses for more then 40 years and currently own a number of horses I enjoy personally and use in educational programs and workshops. I have shown in dressage competitions and, as a child, in 4-H. I trained for five years with advanced-level eventing rider Adrienne Iorio in Millis, Massachusetts.  I am a lifelong animal lover and have shared my life with dogs, rabbits, cats, birds, buffalo, and goats (dairy and fiber). I have worked in the horse rescue community and have been a wild Mustang advocate since 2001. I have gentled and trained wild Mustangs who continue to be a part of my life. Due to family health problems, I cannot live in Massachusetts. I live in beautiful Northwestern Nebraska, and I love to photograph nature, hike, practice yoga and meditation, and of course, spend time with my horses.
Contact me today to see how equine law and equine business consulting can help you.