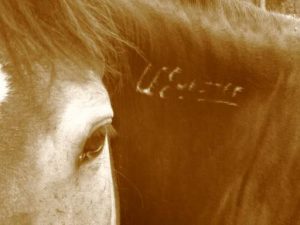 You work hard to make your equine business successful. There are two important legal ways to protect your business: trademark and copyright registrations. Many people confuse the two, but they apply to entirely different legal matters. They can also both involve complex legal issues so it's best to work with an attorney when filing registrations. You may also encounter someone sending you a letter telling you to "cease and desist" from using something they have trademarked or claiming that you are violating their copyright.
Trademark Registration
Registering your trademark is a way to protect your brand, your goods, and your services. A trademark protects a word, phrase, or design that defines a company brand. An example would be the word "Nike" or the Starbucks logo. I provide services for the entire trademark filing process, from conducting extensive searches concerning your proposed trademark to completing and filing the necessary paperwork.
Did you  get an Office Action after filing on your own or using a document service like LegalZoom? I handle Office Action responses as well. I discuss your chances of getting your mark registered based on what the examining attorney stated as the reasons for denial. I talk with you about a possible argument and then file the necessary Response if it is warranted.
Copyright Registration
Copyrights apply to creative works. These include photography, DVDs, books, articles, videos, curriculum, and lesson plans. You own the copyright to any creative work you make as soon as you create it. But that is not enough to protect it legally. You must register your work with the US Copyright Office and have that registration approved before you can enforce it in a court of law. It takes at least several months to get an approval from the Copyright Office, so the sooner you register your work, the better.
Contact me today so I can discuss your options concerning trademarks and copyrights.