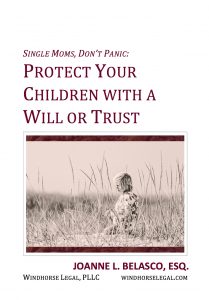 It's 3 am, and you have just woken up in a panic. On Facebook last night, you read a post about a single mom who was hit by a car while jogging and is now in a coma. You got really upset when you learned that the kids had to go stay with a distant relative who lived in another state and really didn't even know them. You finally get back to sleep but when you wake up you are full of anxiety and questions. You worry about what would happen to your kids if you were in a coma. What if you were killed? Who would take care of them? Who would pay for their food and their piano lessons and their clothes? Who would raise them the way you want them raised? You grab your phone and try to do a Google search to learn more, but it's all so confusing that now you are really panicked.
In the free e-book, Single Moms, Don't Panic: Protect Your Children with a Will or Trust, I explain how wills, trusts, and incapacity documents can protect your children in the case of your death or incapacity. Visit the link to download your free copy.
Contact me after you've read my e-book to ask any estate planning questions you may have and to see how I can help you protect your children with the right estate plan for you. Thanks!