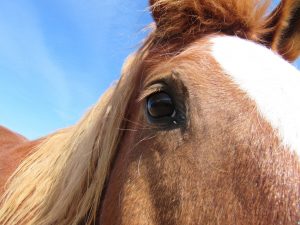 I don't know about you but one of the fun things about owning a horse business is that I get to look through interesting photos whenever I put together material for my website or social media. There are literally millions of photos online to look at. Really. I just did a Google search for "horse image," for example, and got 1,990,000,000 results in .52 seconds. I could just download any number of photos for my website and social media accounts, right?
Wait. Whoa. Not so fast. Did you read the viral story about the hipster? Yes, this does connect to your use of online photos with your equine business. A hipster guy got so mad thinking a journal had used his photo without permission when it reported on a study about hipsters that he threatened to sue the journal. The funny part of the story is that the photo wasn't him but it confirmed the study results that hipsters tend to conform to a certain look. What's important for us is the story behind the photo.
The journal had bought the hipster photo from Getty Images. You have may have bought their photos or spent time looking at them in your search for marketing or blog illustrations. The journal's editor-in-chief contacted Getty, and it had a signed release from the model in the picture. That release was worth its weight in gold because it showed the man who emailed was not in the photo and therefore had no legal action against the journal or Getty.
You hopefully now see where I am going with this and your use of online photos. A lot of people download photos from the Internet, but that viral story illustrations a point you may never have thought about: you should not use these photos on your website or social media unless you or the company you bought them from have a model release. (What about pictures you've taken yourself? I will get to that issue in another blog post, I promise.) Chances are good that you are going to have to pay for high-quality photos that you can use legally. Places like Getty, which has some stunning photos, may be a bit pricey for your budget, although the photos are certainly worth it. Take a look at a site like PixelRockstar. You can get photos for about $1 a picture. In case you're wondering, the picture I used for this post is one I took of Aubrey, my sorrel Mustang.
I know that copyright and the use of photos in blogs and for marketing is a huge topic. Stay tuned to my blog as I continue to explore how we can use great photos to help people learn about our equine businesses. Feel free to contact me if you need a release to use photos or if you want to register the copyright of your photo(s).